I have wanted to visit AOC in Copenhagen for a very long time but somehow I always ended up somewhere else. This time I managed to get a taste of it. Let me show you.

Let's start at the end, with the secret beer. Of course, I don't think that the beer is kept secret but I was surprised when the sommelier invited me for a kitchen tour in the almost empty restaurant, grabbed some bottles of beer from the fridge and popped them open. Well, I am not a big fan of beer, especially after such an amazing dinner with wine pairing but I realised the honour he was extending to me and it didn't even cross my mind to reject it. And it seems that in Denmark, a good, chilled beer is the reward after a long and tiring day.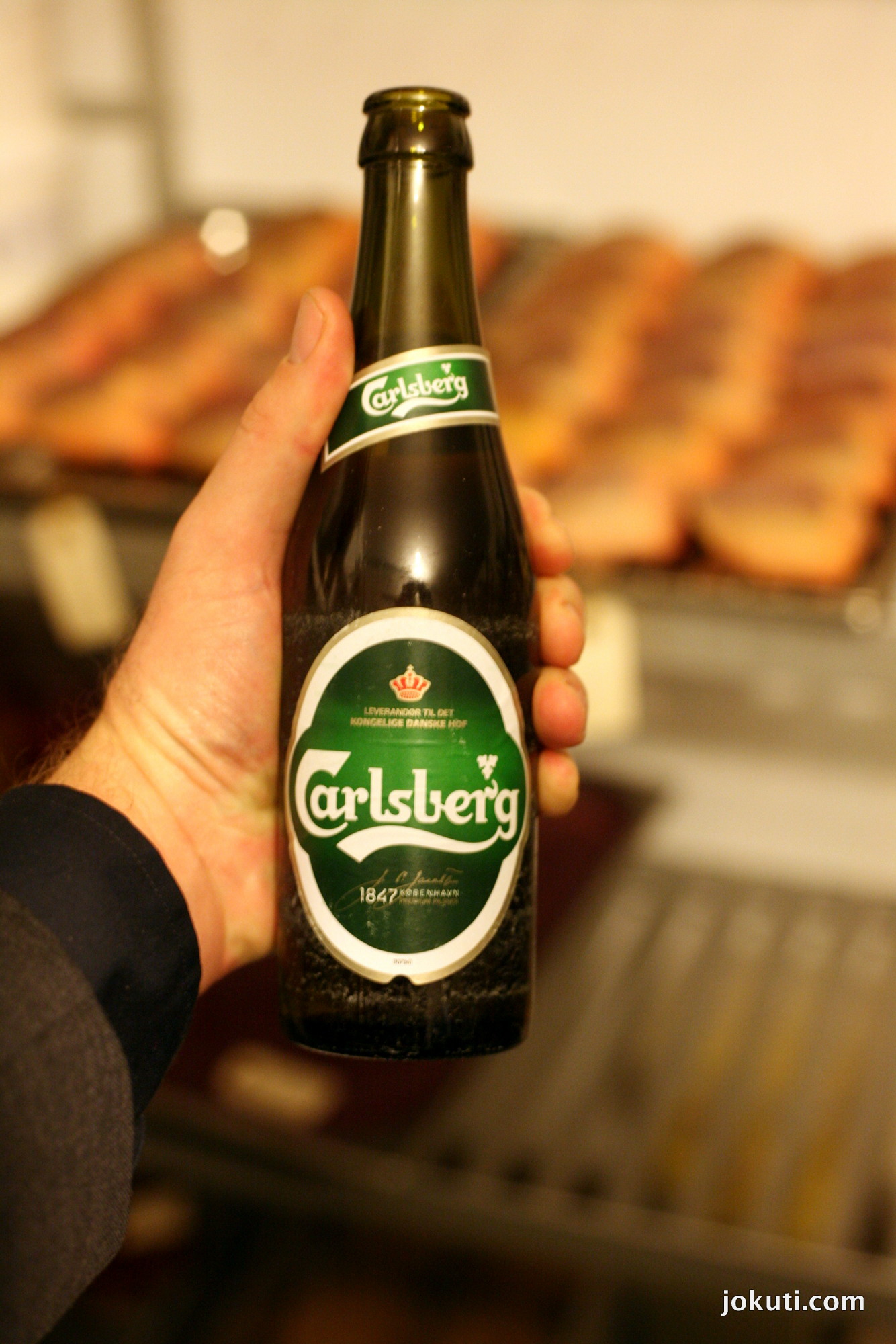 Here it is, the kitchen tour. This is how the - semi-open - kitchen of a 2 Michelin-starred Nordic restaurant looks like, with an Oremus wine box in a very prominent position! (One of the desserts was paired with a Hungarian dessert wine, the 5 puttonyos Oremus Tokaji Aszú from 2007)
Let's see the menu!
This little green amuse bouche perfectly sets the tone: "broccoli marrow", i.e. surprisingly fresh and tasteful stem of broccoli with other green snacks.
Playful setting of different textures: 3 varieties of crisp balls in different flavours: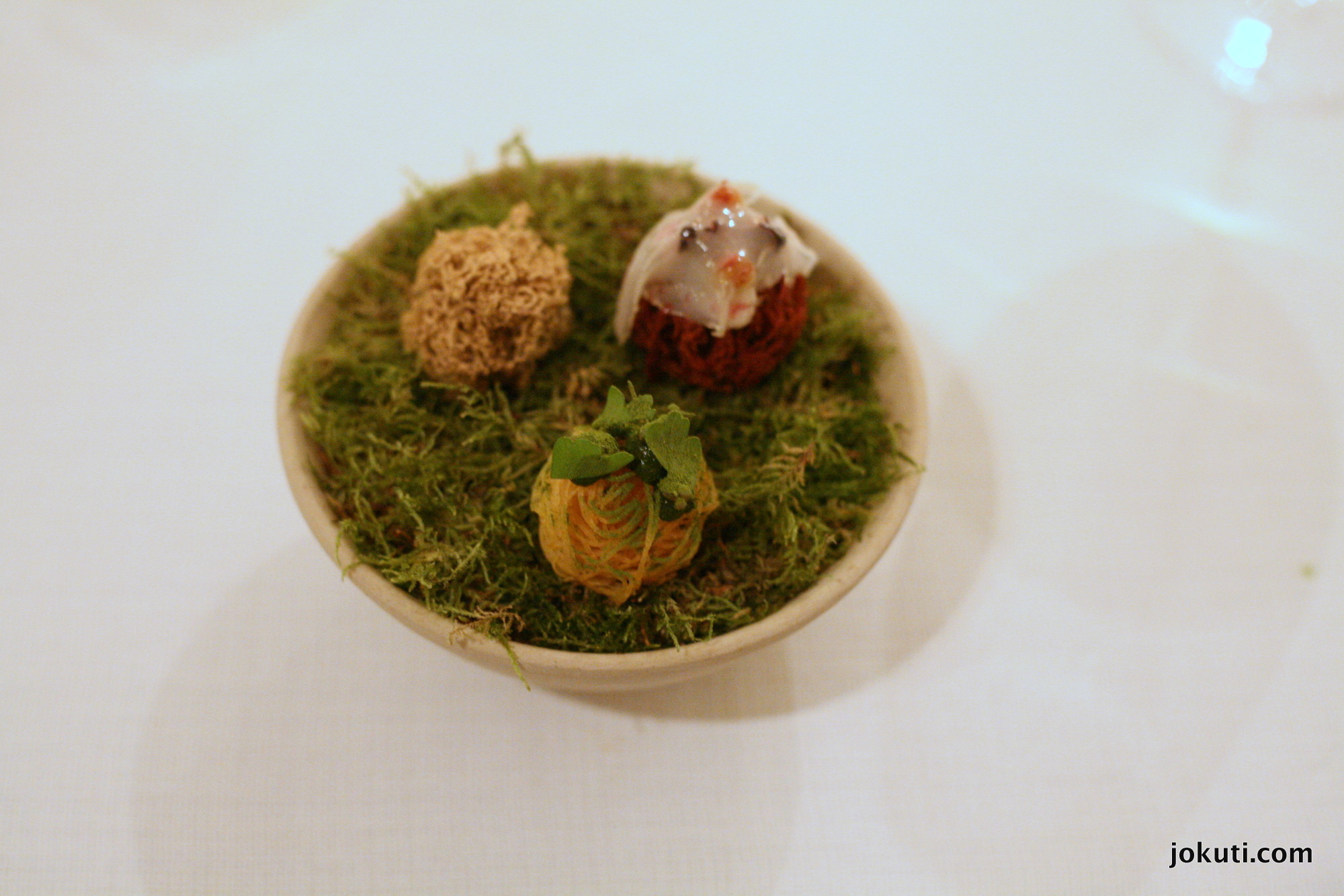 Hay baked celeriac with roe and brown butter emulsion: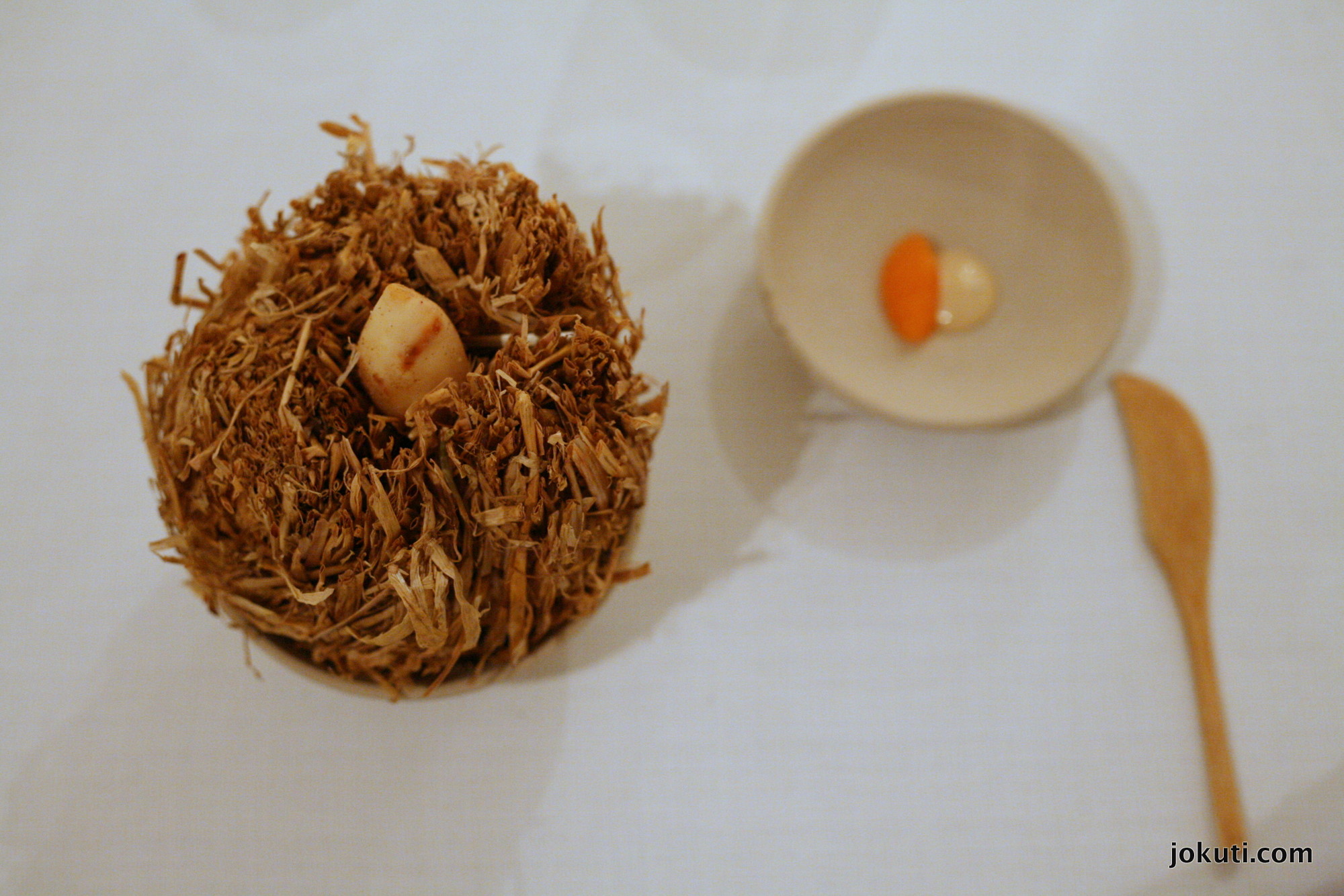 Still the amuses bouches: blini and beef tartare with pickled onion blossom, cress sprouts, horseradish cream, beetroot powder. It requires handwork, but it's worth it!
BBQ flounder with onion and thyme
Funny visual reference to the BBQ ribs, strong in flavour and aroma, another very well balanced dish.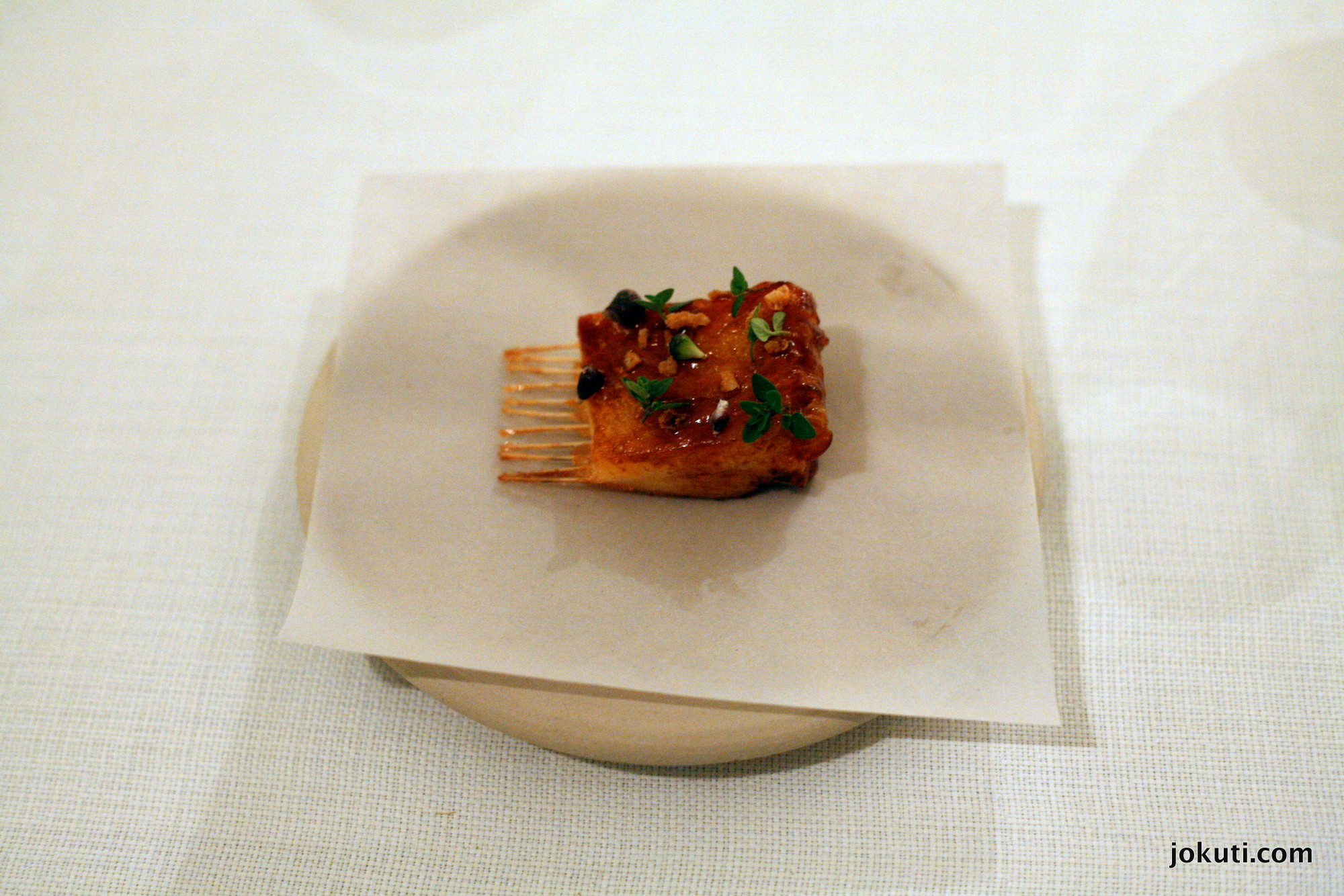 German turnip (kohlrabi), apple, tarragon oil, Danish oyster
And this is already the first dish on the menu. An unforgettable kohlrabi: amazingly refreshing, fresh, crisp, grandiose in its simplicity and the apple dices make it the perfect match with the flavourful Danish oyster.
Sea scallop with fermented asparagus
Amazing dish made up of thin slices, one of my favourites on the menu. It's served with a tiny, savoury, freshly fried beignet and sour cream sauce with dill.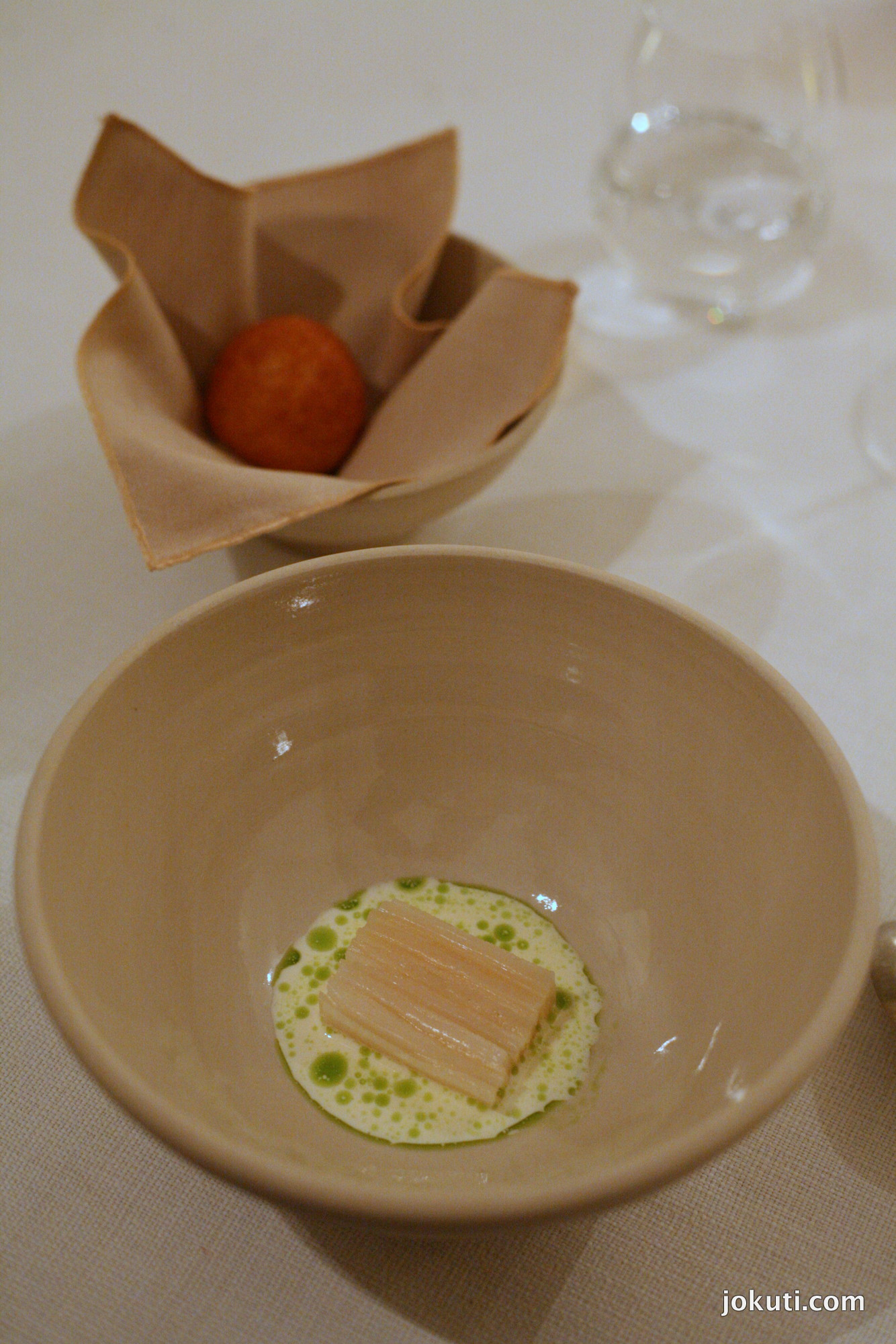 Bread and butter
There's no Nordic restaurant without perfect bread.

Zittauer onion with caviar and elderflower
And underneath, caramelised, buttery onion puree, beurre blanc. The caviar is a Bulgarian Osetra. Wonderful umami bomb, which matches well with the sour elderflower flavour.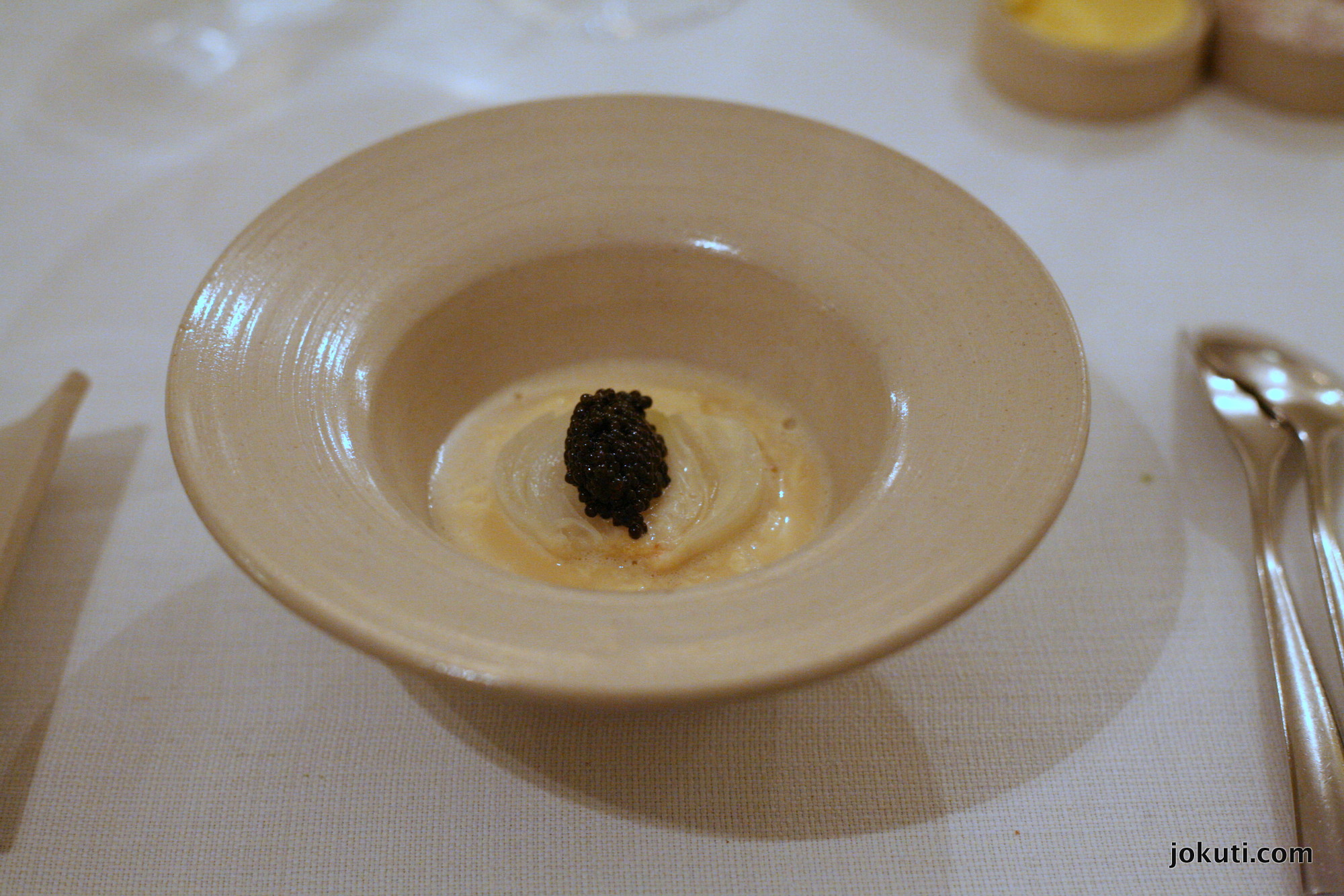 The picture above is already the result, but they serve it in a classy fashion because the dish deserves it:
King crab claw with mirabelle plum and herbs of the seashore: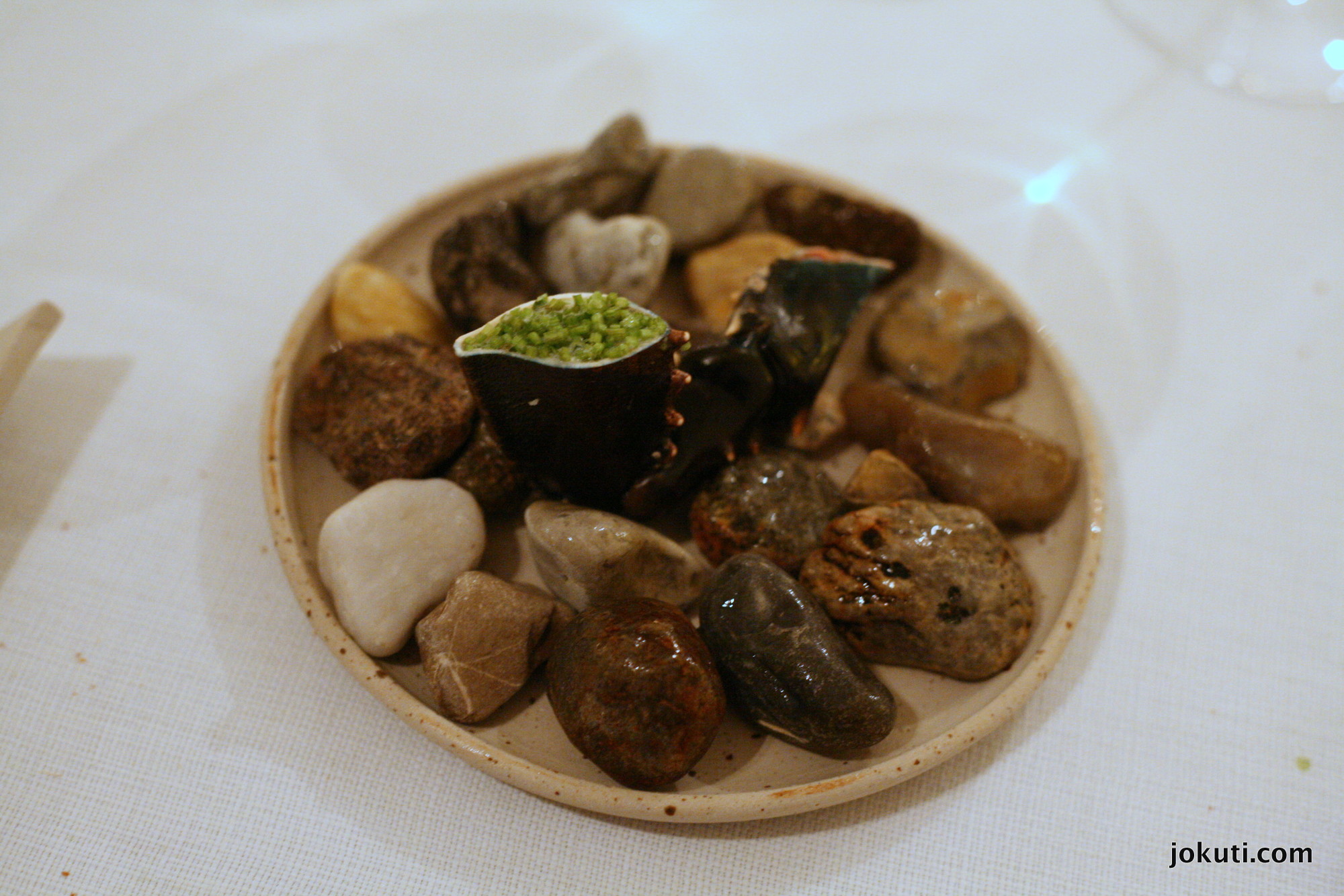 King crab with coral sauce (crab sauce with lemon)
Grilled pear with truffle and spinach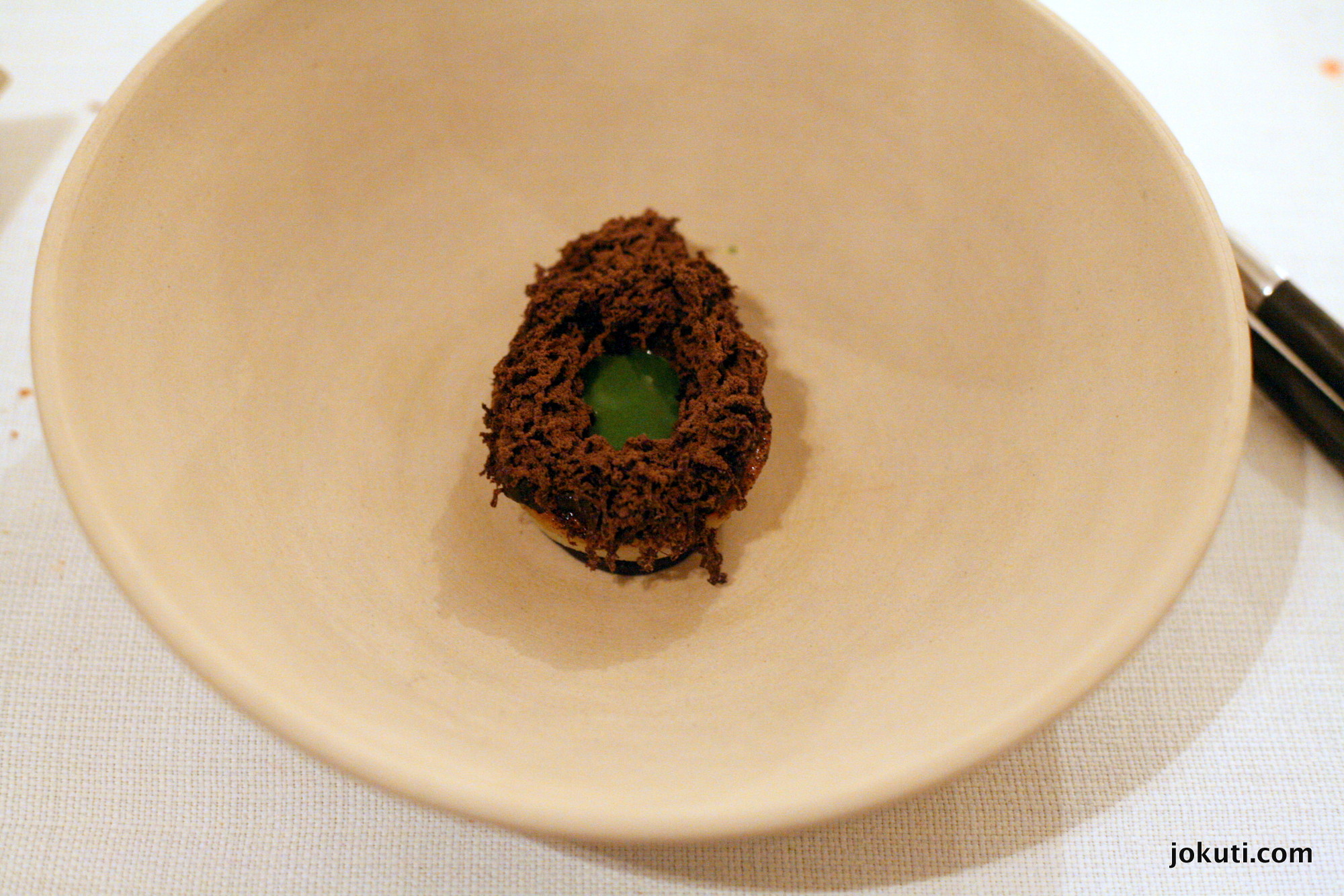 Mallard duck breast with beetroot and sauce with marrow
Parsley and sea buckthorne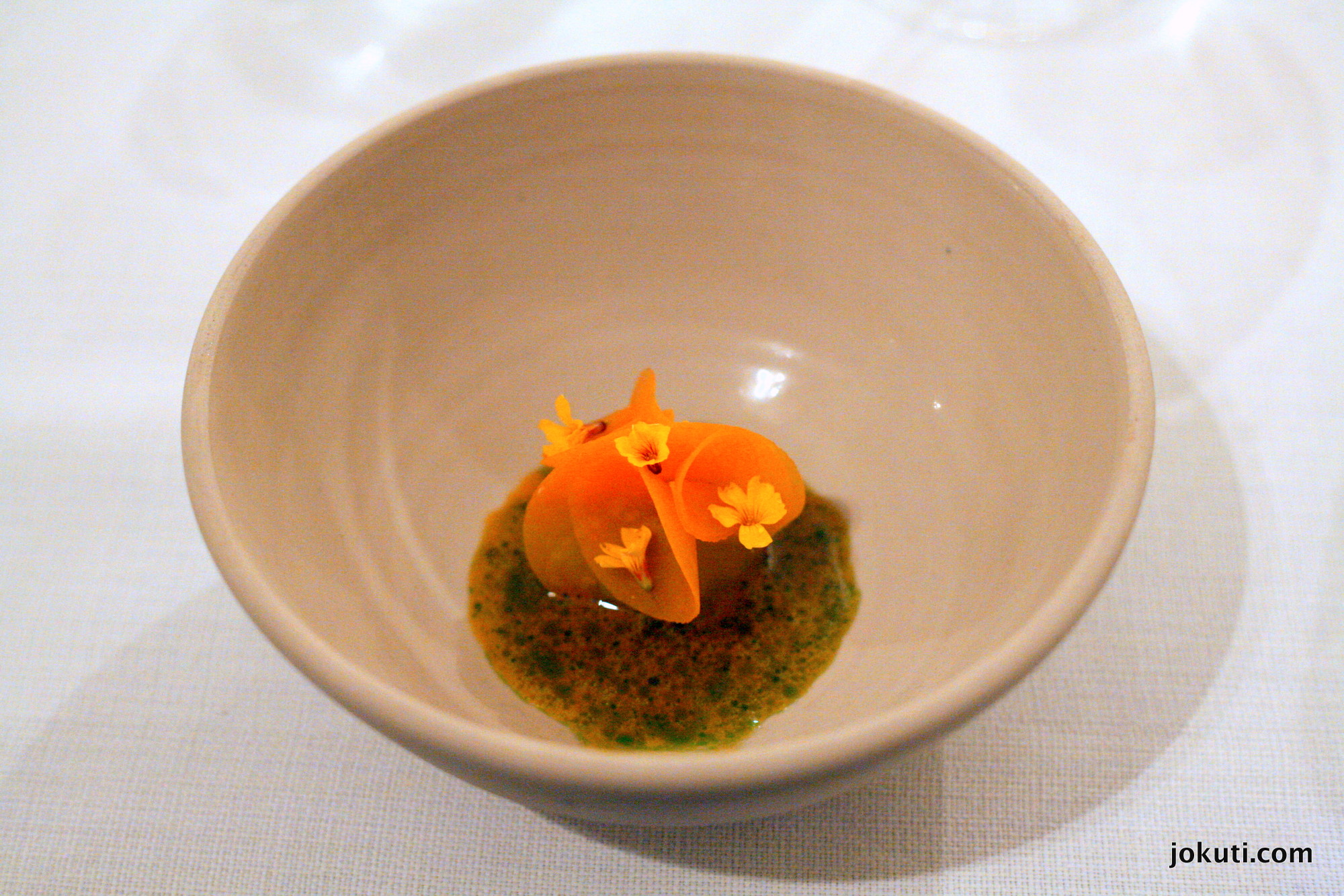 Burnt Jerusalem artichoke with chestnut and hazelnut 
Delicious dessert. On the picture, the thin, crispy top is already broken so that the creamy, slightly sweet ice cream can appear. Slightly bitter and sweet flavours, fantastic.

Nordic vanilla
The whole piece is to be eaten.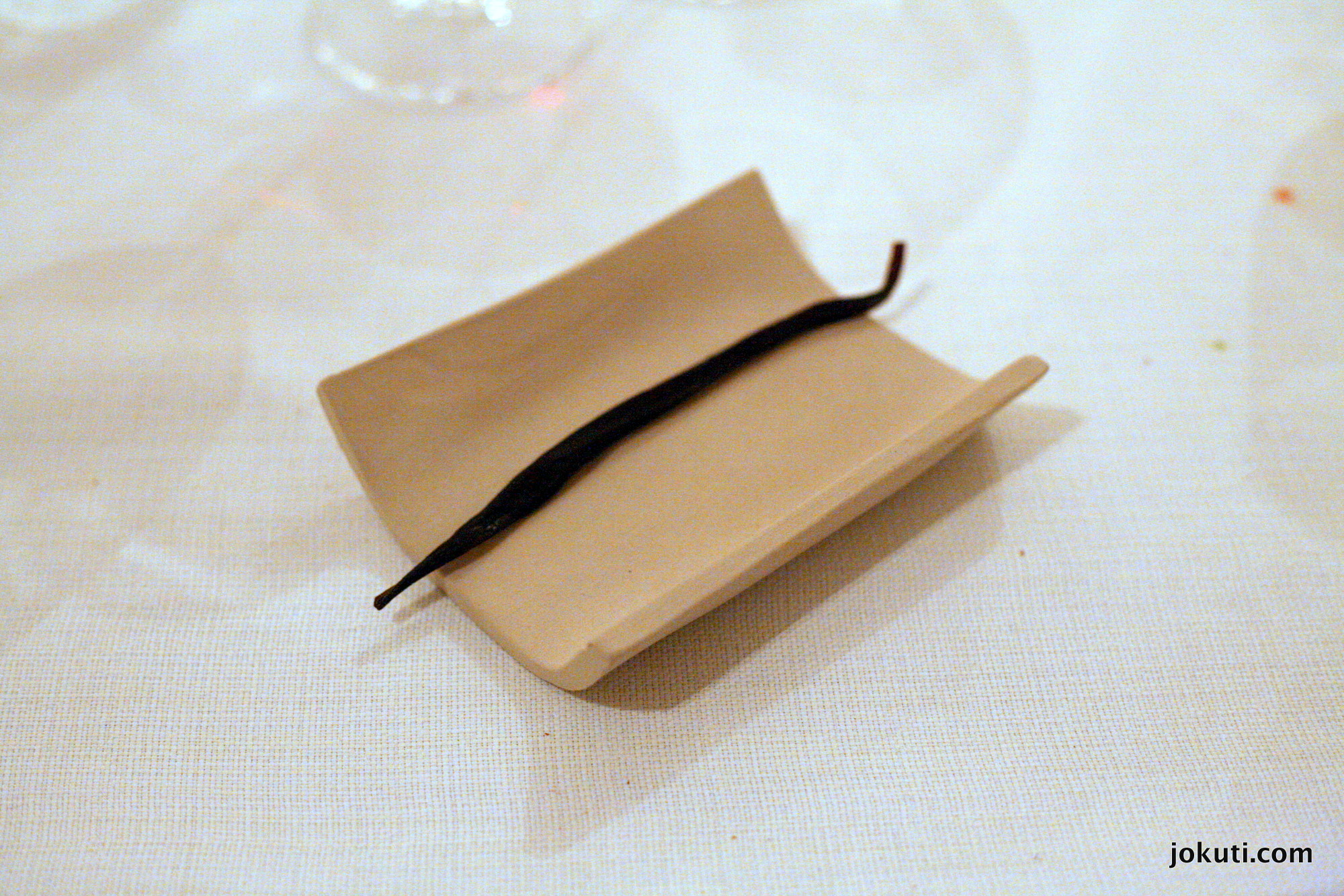 And to finish: the petit four, caramelized bread, pine shoots and beech nut:
To sum up, the menu shows that the chef, Søren Selin, easily puts together a firm and fascinating Nordic menu of his own style, which doesn't get bland for a moment. He uses excellent ingredients and sometimes he emphasises the simplicity, sometimes he reaches out for a more elaborate flavor, but the most important is that the guests feel that they are in good hands and look forward to the next dish, which never fails to delight. I joked with the relaxed and easygoing wait staff at the beginning, saying from which dish I would want to have 3-4 more portions. They warned me - with reason as it turned out later - that I should wait till the end because this is just the beginning and it will only intensify, it's wise to keep up the appetite for the upcoming dishes. Excellent restaurant!