I managed to get behind the scenes. The Pastéis has been prepared for almost 180 years following the recipe of the Mosteiro dos Jerónimos (the Heironymite Monastery), in the legendary bakery. Every day, more than 20 000 pieces of the freshly made pastry make someone happy.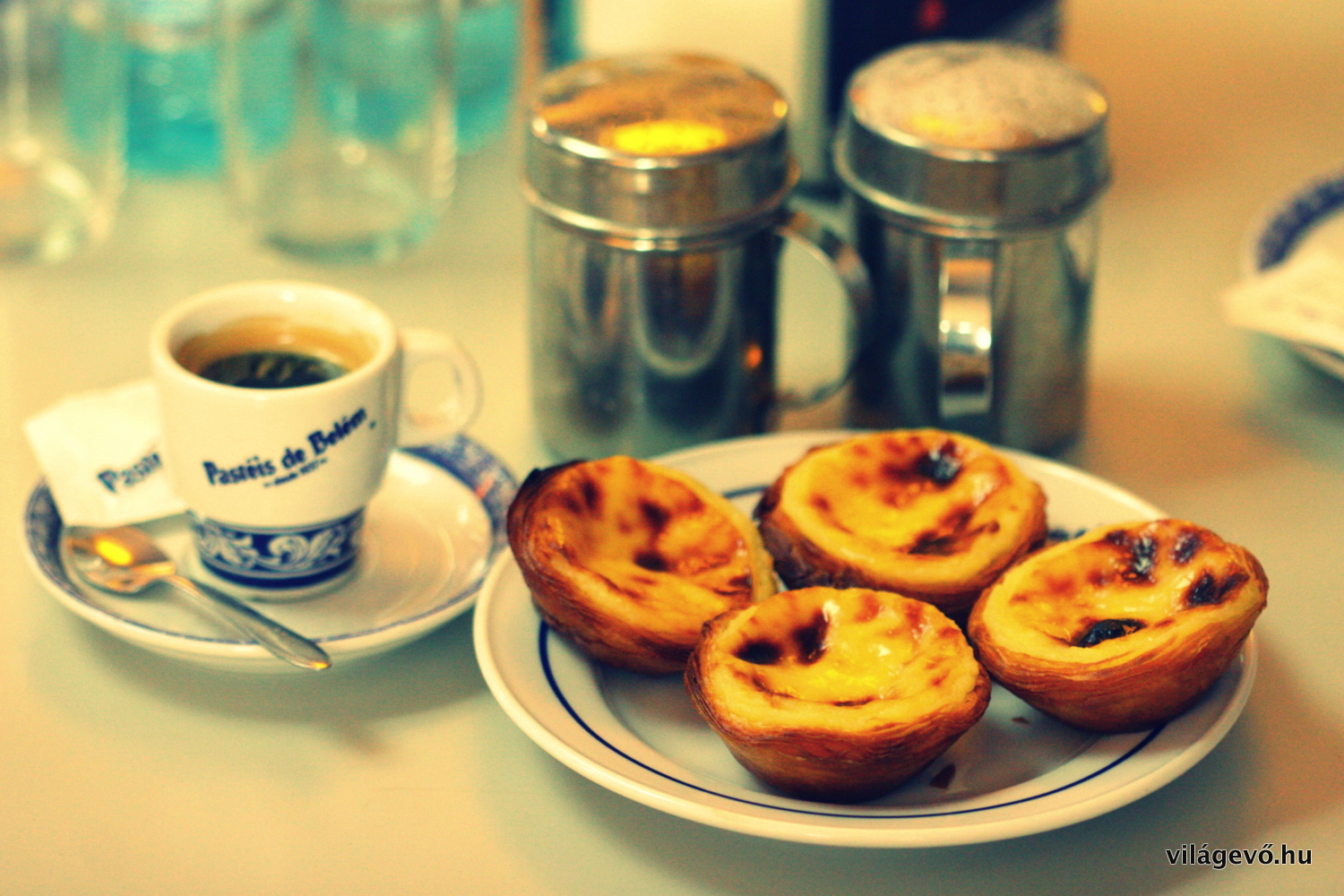 Actually, we are talking about a quite basic pastry. I had a sneaky look: it's baked on 400 °C for 20 minutes. There are no other, smaller or bigger versions, even if the demand is there. According to the bakery, this is the proper size and ratio of the flaky puff pastry and the moderately sweet, baked egg custard filling. I tried them in many places before and after (the others are sold as pastel de nata), but the most delicious ones are prepared in Belém. I think it's really worth a half-day visit, also to see the neighbourhood's other fascinating points of interest.
The crust itself is very crispy, flaky when it's fresh. In Belém, you'll find only freshly baked pastries. 20 000 pieces are baked and sold every day. I bought 6 for take-away but I ate them all at once on the spot, they were so good. Still lukewarm, really fresh; that's why the crust remained crispy, which gives a very good contrast to the silky, soft custard. The bottom of the crust is caramelised during the baking process, the top of the custard is burnt a bit, and the whole thing is not too sweet at all. It's really delicious in its simplicity. There are huge queues in front of the tiny shop, and going inside, rooms after rooms are opening up, which are bigger and bigger. The interest is huge and it's valid. Although you can find its lookalike, the pastel de nata in many places, I didn't find any that wasn't too sweet or where the crust was so perfect, so fresh.
For take away you'll get cinnamon and powder sugar because you are "supposed to" have it with cinnamon but I think it's not necessary. It's much better without it.
It's worth to rent a scooter because moving around is much easier that way, and it's not expensive. It's the best decision, in particular if you venture outside the city. Just 30-50 kms from Lisbon you'll find many interesting and exciting places to visit (Cascais, Sintra, Cabo da Roca can be visited in just a day) and the route along the ocean is beautiful. On top of it: many of the cardrivers take the highway, thus it's quite calm.
If you are interested in similar pastries, I made a video on how Pierre Hermé is making his brilliant mille-feuille. Check it out!
Follow me on Facebook, Instagram and Twitter for more foodie stories!