The 3 Michelin-starred Saito was recently named the best place for sushi in Japan by Tabelog. This was my dinner there in January 2016.
Many think sushi equals Japanese kitchen but it's only a tiny part of it. Nevertheless, it works perfectly to demonstrate its various characteristics: the beauty of simplicity, the infinite respect of ingredients and the art of perfection.
The toughest place to book during my trip to Japan was Sushi Saito (except for the obviously impossible one, the Mibu). I'm not surprised at all that people have been contacting me on Instagram ever since, asking for help to get in. What did shock me is that even Andy Hayler, the uncrowned king of restaurant critics hasn't been able to get in in for the last 2 years. Someone eating himself through 110 three Michelin-starred restaurants in 3 continents must have some good tricks and contacts, shouldn't he?! As he said: "Saito now seems to be becoming effectively introduction-only, though not officially so. However it has always been a very tough reservation; I have only managed two visits in my last 9 trips to Japan, despite trying for a reservation every time."
There is one option you can try, if you don't have access to Saito! (Affiliate)
Here is my short video about Saito's amazing style. Look at the routine and confidence in the moves and the seemingly effortless concentration:
The reservations book, where everyone wants to get in, no matter the price. It is not easy to get in, but it's absolutely worth the effort! And the surroundings of the restaurant (they already moved from the previous place that had been shown in the Foodies movie):
They moved to a more elegant place, in Roppongi district, on the ground floor of an office building/shopping mall. To be honest, this didn't make it any easier to find it: if you come from one direction it is on the -4 floor, from the other direction it's on the ground floor... And there are no signs whatsoever to help you out. Thus, the secrecy is maintained.
Once you find it and get in, you forget about all the previous challenges. The chef even proves that there is no need for a great sushi chef to be silent or rude towards his guests; moreover, it is even allowed for him to share a smile or a laugh with them...The charm will not be harmed, on the contrary (this was absolutely the opposite at Sukiyabashi Jiro...):
First round:
[Most of the descriptions I got from Little Meg, please check out her Instagram account for more, she is amazing!]
Shirauo ('Japanese anchovies' or ice fish), to greet the New Year.
Abalone and octopus.
Katsuo zuke (marinated bonito - the katsuobushi or bonito flakes are made of this fish that is the main ingredient of the Japanese broth, the dashi)
Shirako (cod's milt)
Oyster
Kegani (Japanese horse hair crab)
Grilled nodoguro (blackthroat seaperch)
Inada (young yellowtail)
Buri zuke (marinated adult yellowtail)
Kohada (Gizzard Shad)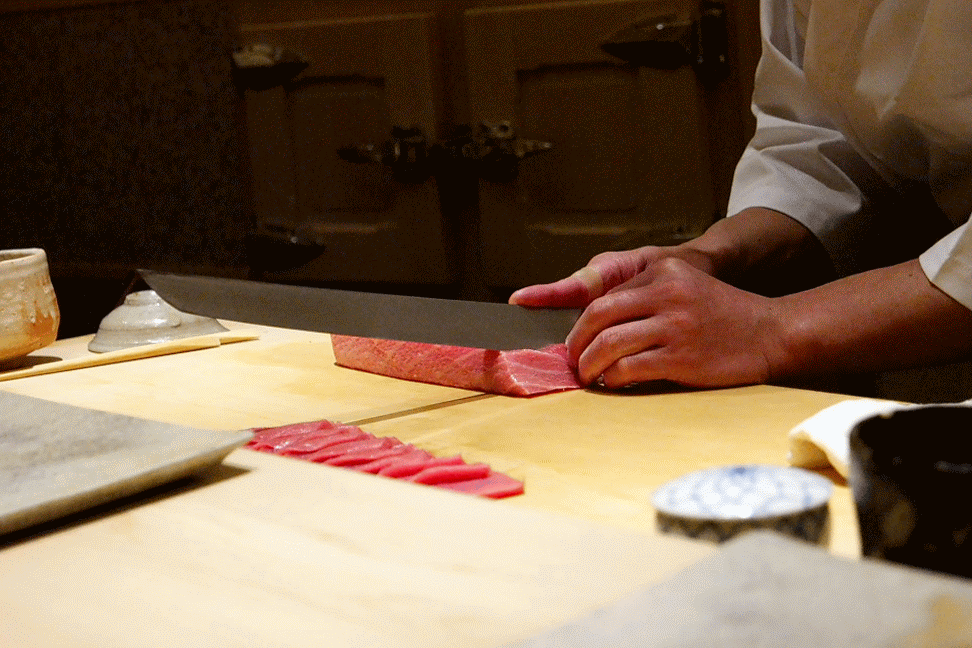 And the usual trio of maguro (tuna):
Akami zuke (less fatty part of the tuna belly, marinated)
Chūtoro (medium fatty tuna)
Ōtoro (the fattiest, most noble part of the tuna belly, see below!)
If you haven't noticed, the fish is from a 167 kg heavy fish, Ōma. :)
Sumi Ika (squid)
Kuruma ebi (shrimp)
Aji (horse mackerel)
Uni (Hokkaido Baffun Uni, sea urchin)
Anago Shio & Tsume (sea eel with salt and tsume sauce)
Futomaki (anago (sea eel), tamago (egg), shrimp, kanpyo (dried shavings of calabash), cucumber)
Miso soup with scallions
Tamago (here a curd-like, sweetened egg dish to close the menu, very light, though)
The whole dinner was amazing, and it had a very friendly, relaxed atmosphere!
As a bonus, when I asked the chef to take a photo together, he agreed immediately. Margaret took the photo, and afterwards Saito-san patted my belly and gave his expert opinion: Ōtoro-san! I've never thought I'd be so happy about someone telling me I'm chubby!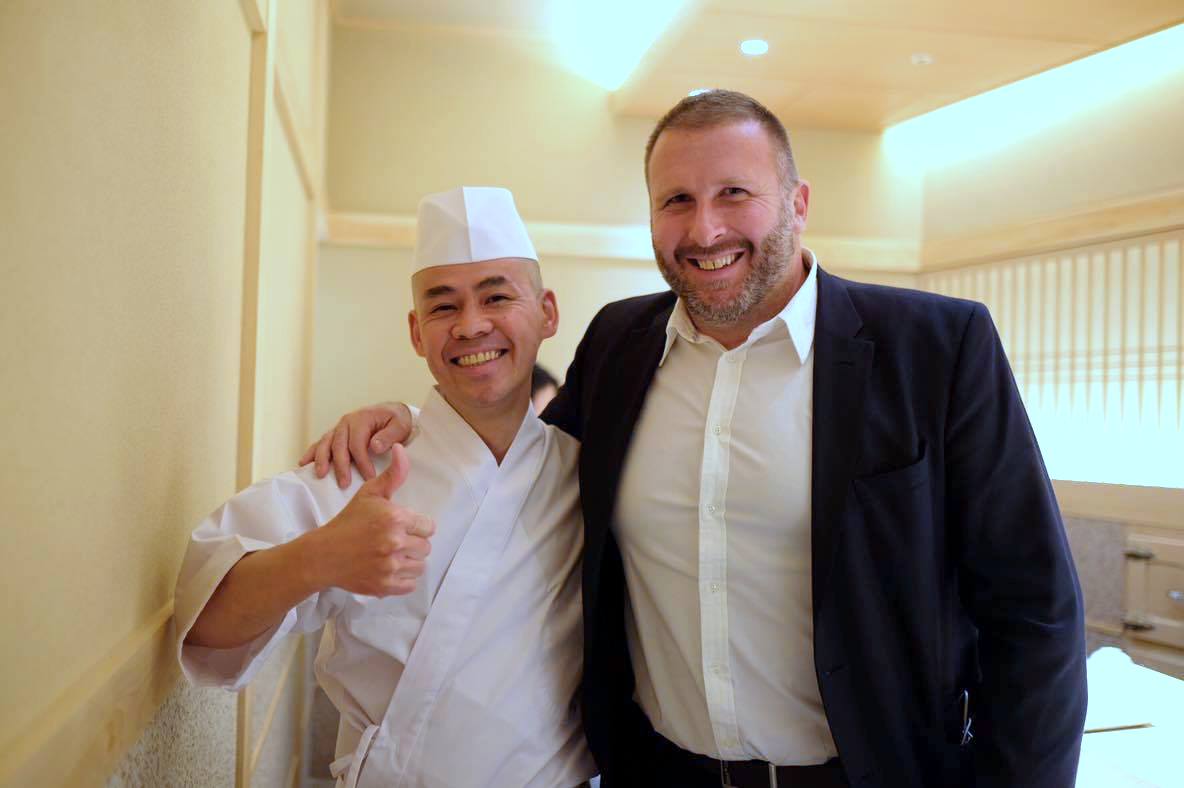 Wonderful experience and fantastic food, highly recommended!
This is the clean up...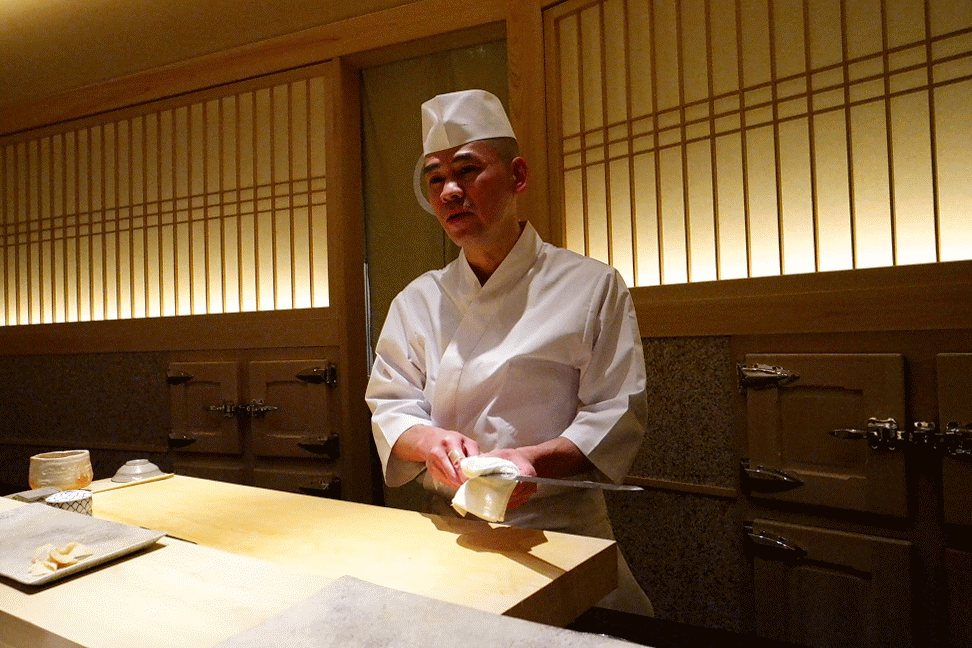 Voyagin might help you to get a reseravation at Sushi Saito (Affiliate)
My rec for an affordable hotel in Tokyo, more relaxed and luxurious, classy, perfect location. (Affiliate)