As my co-host at the Bocuse d'Or Europe 2016, Zsófia Mautner and I were saying during the show, Bocuse D'Or is not simply a contest - it means so much more. Here are three stories from Bocuse d'Or Europe 2016 to show you how much more.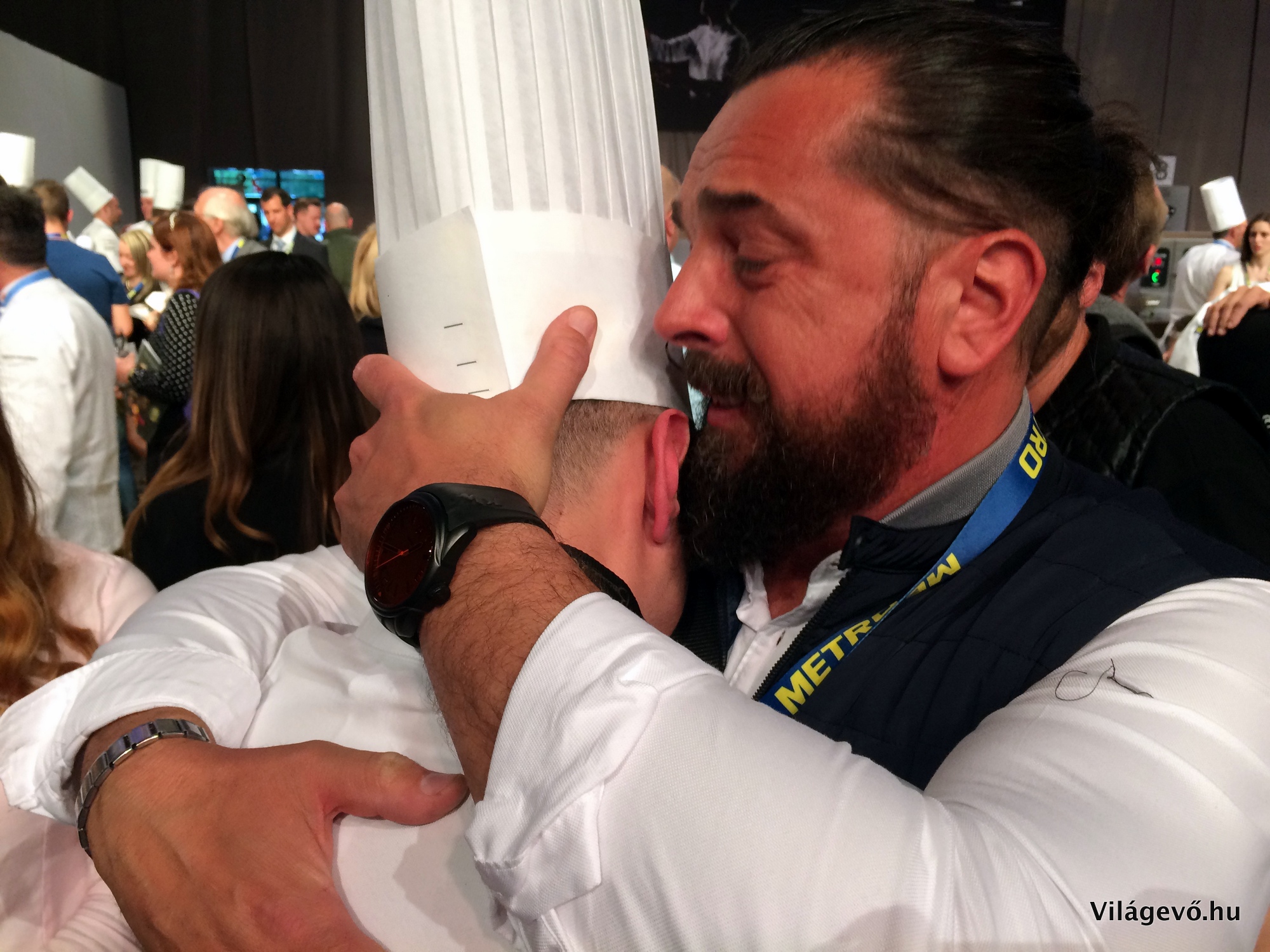 Chef's white instead of football jerseys
After the entry of the jury, Jerome Bocuse spotted two little boys in chef's whites in the audience and he asked me to get them on stage. I was happy to see that they are with the Hungarian grand master of high-end patisserie, László Mihályi (Mihályi pâtisserie, Vác [ex-Desszert Szalon]) who didn't mind that the guys (who mysteriously happened to look very much like him) make a visit at the jury's table. All the members of the jury were very enthusiastic about their visit: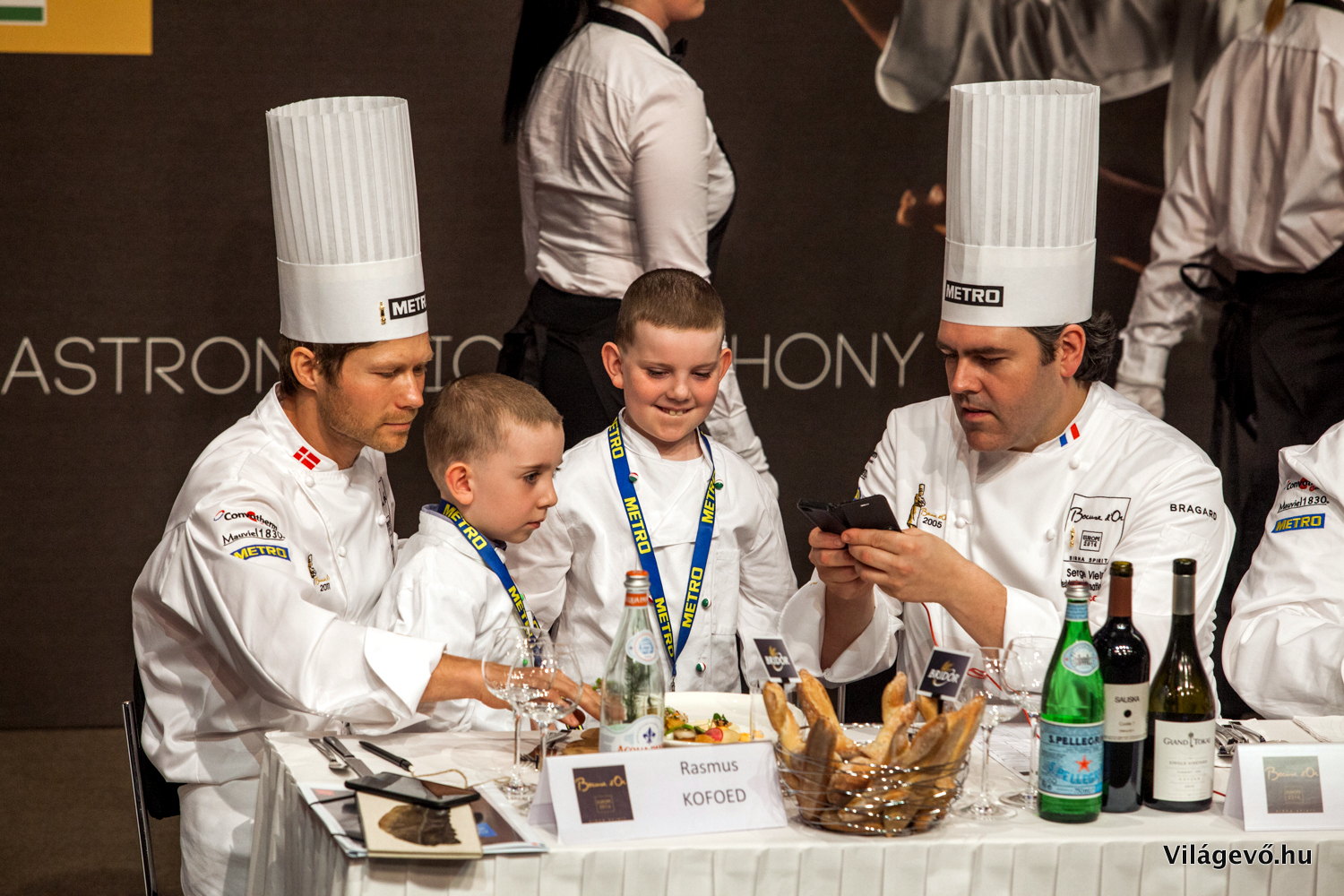 The little boys were even brave enough to introduce themselves over the microphone. They were quite cool in front of such a huge crowd and so many cameras. In one of his speeches, Jerome Bocuse then told us why he noticed them: almost every boy their age is running around in football jerseys. He was very fond of seeing them in chef's white. And he added that Rasmus Kofoed was the same age when he decided that he wants to win the Bocuse D'Or. (I didn't quite realize here if it was a real biographical fact or he was just teasing him because he tried it over 8 years continuously until he finally succeeded.)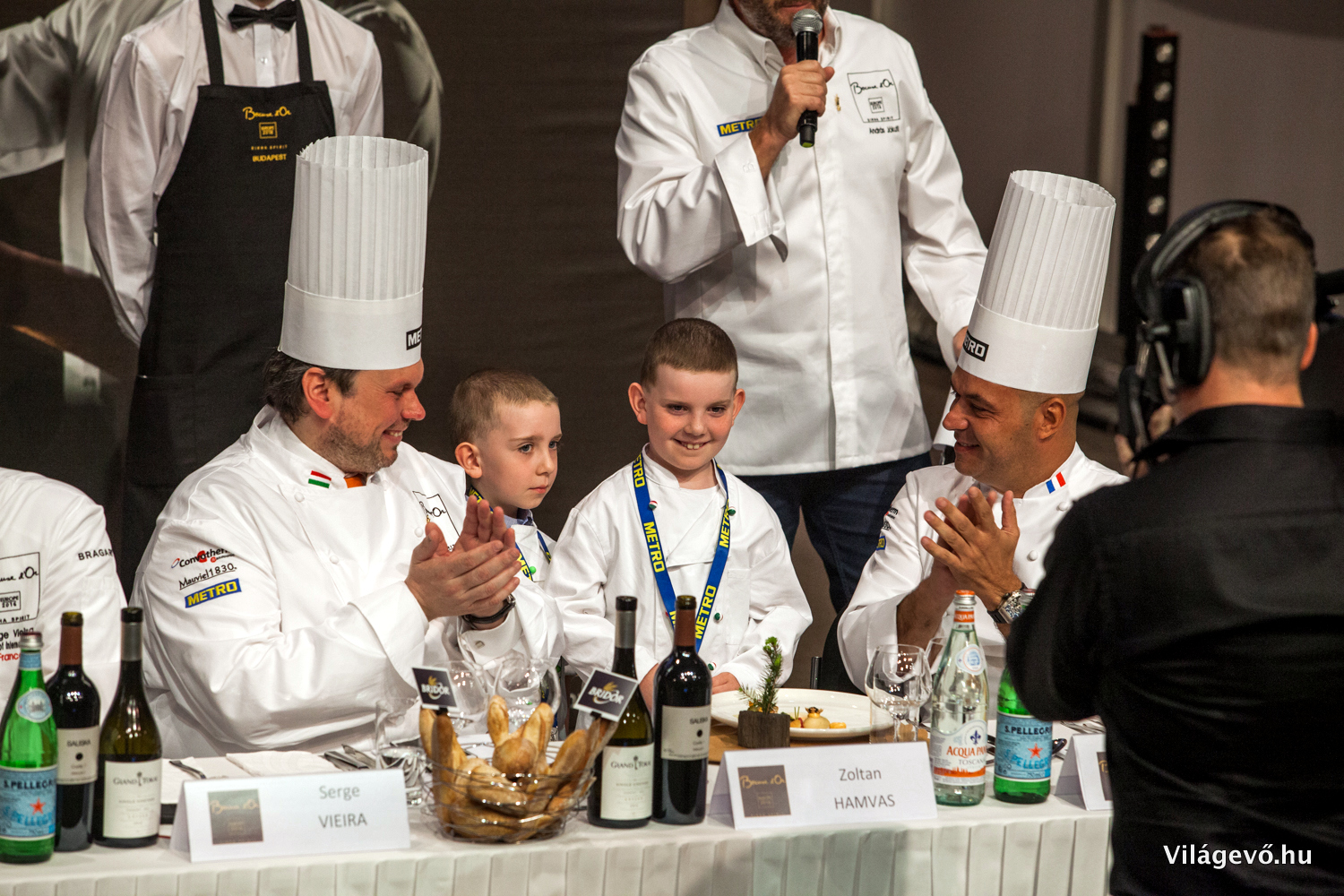 [That's me in the background - without a head] 
The man who missed the Bocuse D'Or only twice: once because of the death of his mother and another time because of a serious surgery. This time he was there: with his leg in a cast.
That's Jens Kolbeck and me - with my head.
Already during the competition, I shortly interviewed Jens Peter Kolbeck because I noticed that his leg was in a cast and he was doing his tasks limping. (As a member of the kitchen jury, he was running around during several hours.) I met him later on again so that I could ask him to tell me his story.
"As I mentioned earlier, I only missed the Bocuse D'Or twice since its start 30 years ago. In 1987 (at the first Bocuse D'Or!) I participated as a contestant. I was scheduled to participate on the first day, which is the more difficult one because the jury is not quite prepared yet; they don't know all the contestants. In the end, I won the Bocuse D'Argent, which is the silver medal, but since I was on the more difficult day, I rather think that I have lost the Bocuse D'Or only by 3 points. The two occasions I couldn't participate were: once in 1989, thus at the next one, because I had a back surgery. In 2011, my mother passed away only two days before the contest. These were the two occasions in the 30 years of Bocuse D'Or when I couldn't be there. Nevertheless, at all of the other times I participated either as President of Jury, coach, kitchen jury or commis jury. I think now you understand my passion and commitment to the Bocuse d'Or."
Kevin Szabó, a young Hungarian cook from Győr
[the commis of the winner, Tamás Széll]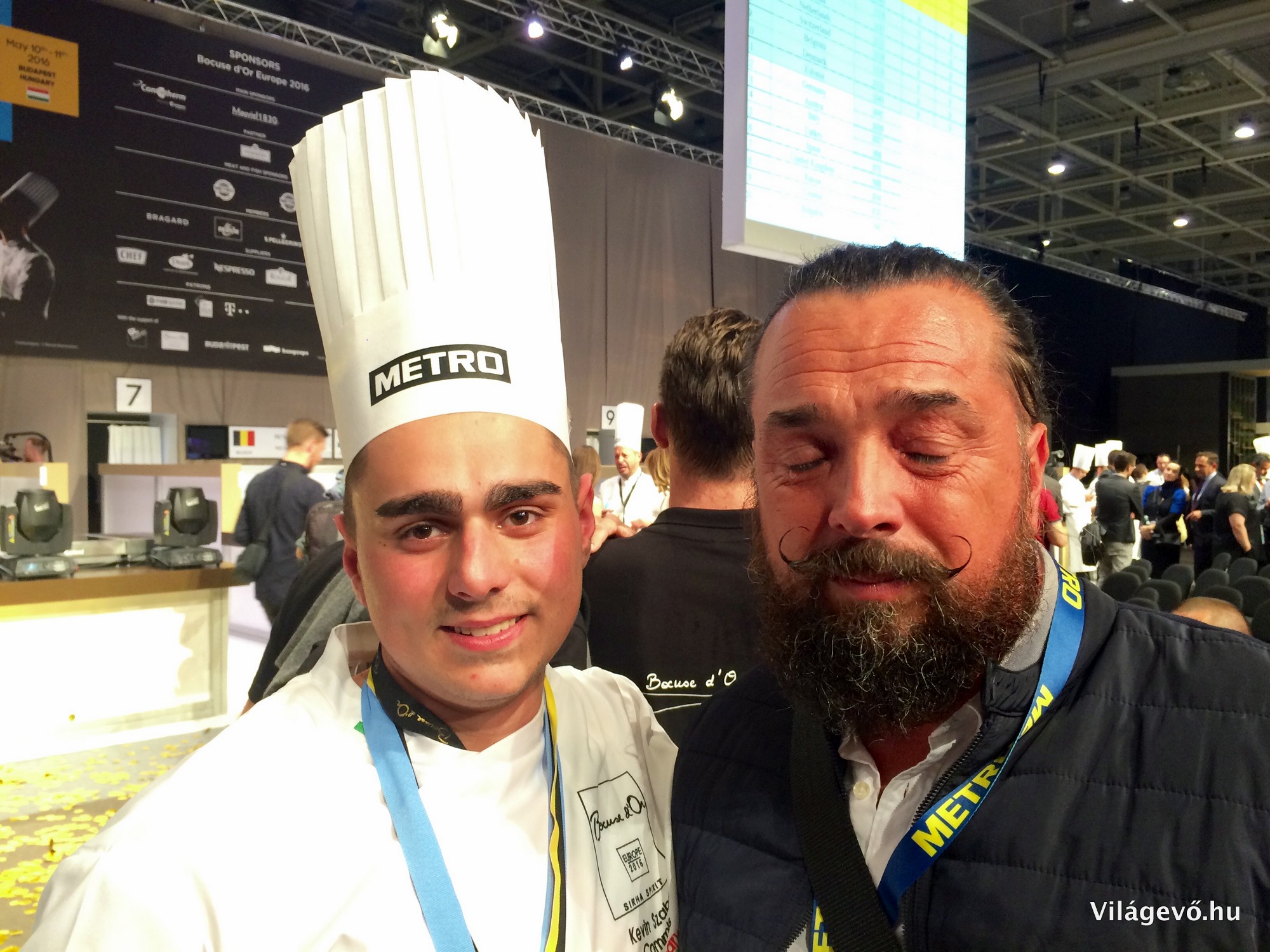 "I said, let's grind!" - That's what Kevin said in my microphone on the podium. I wanted to know more than this, so a few days after the contest I asked 'Kevinke' (Lil' Kevin), as the others call him in the team, where he came from and how he earned this place to be able to "grind" next to the best Hungarian contestant.
"In 6th grade, I decided that I want to be a restaurant owner! In my life so far, we had ups and downs. In my childhood, unfortunately, I knew the "good life" and we often went to restaurants. I adored the hospitality industry, at least the part you could see as a child, not the least because all the restaurant owners drove cool cars... To own a restaurant and a good car, I knew I had to become a chef.
So I got started. I went to the culinary school in Győr, and I did my apprenticeship in the La Mareda restaurant, a good place to learn, where Szilveszter Horváth was my mentor and from whom I got a very solid knowledge. Indeed, it overweighed the knowledge I got in the school. This is why I tried to reform and improve the curriculum, introduce new things and show my teachers how we cook in the restaurant. But they had some kind of a professional jealousy, and they thought I was arrogant and a know-it-all. Every coin has two sides, I suppose. They never let me do anything my way and I was young and stubborn so I thought I don't care, give me a fail, I will show you what I can do! Mostly to share my knowledge with my classmates who didn't have the chance of having such a practical experience as myself… Unfortunately, the teachers didn't welcome this and I didn't receive any help or support from them. Looking back, I realize that with the knowledge they gave us not even a canteen of a kindergarten could be run. Szilveszter - luckily - was very happy with me and took me to many places. This is how I met at an event, one of the assistants of Tamás [Széll, Michelin starred chef of Onyx in Budapest]. A couple of months later, while working for the La Mareda at the Gourmet Festival in Budapest, I saw Tamás and his assistant on the stage. He recognised me so I took a chance and asked him if I could spend my last school year at Onyx as an apprentice, and finish my education there. They introduced me to Tamás, we exchanged e-mail addresses, I wrote him and I got immediately a reply that I should go and meet them for a chat. There, Szabina [Szulló, the other chef at Onyx] welcomed me and she said during the 30 min interview that I get a one-week probationary period, and either it works or not. Apparently it worked! My family is from Győr, so I had to take care of myself and pay for my accommodation in Budapest, the public transport travel cards and the train tickets to go home. To do so, I had to take up an extra job. A hotel director acquaintance of ours took me in. I was working the breakfast service before school and the dinner service after school. This went to the detriment of school but I knew I had to do my best at Onyx. I still learn a lot from Szabina and Tamás. I think everyone can learn from anyone, it isn't related to age.
But all this went to the detriment of the school and I couldn't finish it. Szabina and Tamás helped me out even with this. I enrolled in the Gundel culinary school, and attended their evening classes. Unfortunately, I couldn't meet the requirements of the school because of the preparation for the Bocuse d'Or, and I couldn't attend the classes as much as I was supposed to. But the teachers in the Gundel are still helping me and they don't let me go astray. They teach and support me! I have been in the Onyx for 3,5 years now in total, I was never careless, irresponsible, nor lazy or sluggish. I always worked humbly and with perseverance, they could always count on me, no matter what. Even on holidays or on my days off. They saw that I want to do well, I do what needs to be done, I am able, focused, ambitious, hygienic....I think this is enough of me applauding myself, or I'll make myself throw up. But you see what I mean, don't you?!"
Yes, I do. :-) And what has changed ever since?
"Not much. But I am very content that we made so many people happy. I remain the same guy, a cook who adores his profession! I have plenty of dreams; I am only 20, but mainly I am going with the flow right now. That's why my eyes started to water at the award ceremony! I was thinking: Now, you see, you dumb kid, where you come from and where you have gotten!"
Finally, a short video summary of the Bocuse D'Or Europe in Budapest:
Follow me on Facebook, Instagram and Twitter for more foodie stories!
And here you can find accommodation in Lyon, if you will be there in January! (affiliate) I recommend the Viex Lyon part, that's the most charming.